May 14th: First Edition of RubyFest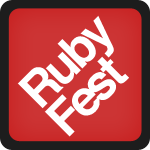 Are you into Ruby? Does Ruby on Rails ring any bells with you? Or are you at least interested in the art of web development? Did you answer yes to one or more of the previous questions? If so, then you might be interested in RubyFest! RubyFest is a Ruby user group for people who live in the Netherlands and Belgium or for people that are in the neighbourhood when one of our meetups is planned.
The very first edition of RubyFest is planned to happen on may 14th, be sure not to miss it! It will be a great opportunity to meet fellow rubyists and to listen to interesting talks on Subjects-That-Matter®. For example, my colleague Ariejan will give an introduction on how Git can work for you and your projects. Visit the RubyFest website for more details!